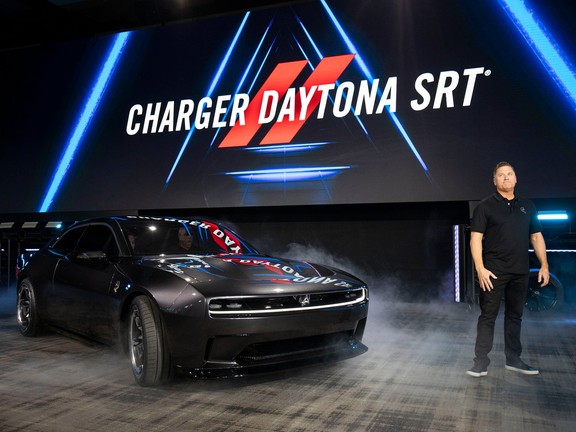 Article content
Windsor Assembly Plant workers got a glimpse of what is expected to be in their future Wednesday as the body of the new Dodge Charger was in the facility's metal shop.
Article content
While Stellantis has not publicly confirmed any product placements, AutoForecast Solutions vice president of global vehicle forecasting Sam Fiorani said the Charger/Challenger and Airflow Concept are all expected to be added to the product mix in Windsor.
Article content
The plant will also continue to produce the Pacifica minivan lineup.
"At the moment, we have minivans, Charger/Challenger and the Chrysler Airflow Concept in that plant," Fiorani said.
You add in the battery plant and Windsor is going to be a great place to be
"They have shifted a few things around in the last year or two. We originally had this (Charger/Challenger) earmarked for Belvidere (Illinois), but it makes much more sense to be with the minivan because they will share a platform (STLA large) eventually.
"It would fill up Windsor much better than having it as just a minivan plant."
Article content
The company is currently working with shops on the tooling required to build the new electric battery version of the muscle vehicles.
The Airflow Concept vehicle, which is still being finalized, is expected to be ready for 2025.
"Think of it as a mid-sized crossover to fill a gap in the Chrysler lineup," Fiorani said. "Airflow is a 100 percent Chrysler model."
Fiorani said the most recent updates received this week have the Challenger launching production in June 2024 and the Charger starting in September.
It would be the second time the Charger has been manufactured at Windsor Assembly after a previous stint from 1975-1978. It'll be the first time cars will be rolling off the line at the plant since 1983.
Fiorani confirmed Windsor Assembly is scheduled to be shut down for retooling from June through late August.
Article content
"I feel so optimistic now," Cassidy said about the plant's future with the variety of products expected to arrive.
"I'm even more fired up about getting back the third shift. I have always said that was my focus and we're going to get all our laid off people back.
"You add in the battery plant and Windsor is going to be a great place to be."
In the short term, Cassidy said his priority is on making sure members qualify for EI for the shutdown period.
"We're talking with the federal government on that to make sure our members have enough hours to qualify for EI with all the shutdowns due to parts shortages (related to COVID)," Cassidy said.
"We have some anxiety to deal with as a result of all these shutdowns."
Fiorani said the thinking behind moving Challenger/Charger out of Brampton, where it is currently produced, is better plant utilization.
Article content
"If they keep these models at Brampton, it would create two plants that were not being fully utilized," Fiorani said.
"In this day and age, full utilization of plants as much as possible is key to profitability and hopefully keeping the stock market happy. Blending them both at the same plant, ensures a longer life for Windsor."
Currently Windsor Assembly is producing the Pacifica and Grand Caravan minivans. In 2021, Stellantis sold over 111,000 minivans.
Windsor will also continue to build internal combustion engine and hybrid versions of its minivan lineup until Pacifica undergoes a redesign to become fully electric. Fiorani said the electric version of the Pacifica is expected for the 2028 model year.
With the company planning to return to a three-shift operation in Windsor, Cassidy said the plant must be producing 300,000 or more vehicles annually. Windsor Assembly hit that mark for the minivan in 2016 and during the vehicle's heyday Cassidy said the plant put out at least 400,000 annually.
Article content
The Brampton plant produced over 136,00 Chargers/Challengers in 2021 and seemed in danger of being closed when word of the Belvedere moved leaked out.
However, Fiorani said Brampton now has reason for optimism.
"It will get to be an electrified model (Jeep)," Fiorani said.
"It'll likely have hybrid power, but definitely an EV variant. Jeep is pushing towards more plug-ins by the end of the decade."
Chrysler CEO says minivan, Windsor Assembly have long future

Stellantis announces production plans for Windsor Assembly Plant
Fiorani said AutoForecast has a good idea of ​​the exact product Stellantis is lining up for Brampton, but isn't quite ready to reveal that yet.
"The product we expect to go in there (to Brampton) is high enough volume that it should at least match what was in there before, if not provide more output to that plant," Fiorani said.
"With Jeep adding variants to all these different vehicles they have in their lineup, we can foresee another variant being added at some point adding to the potential of that plant.
"Adding electrified models into Brampton, as Jeep brand models, gives the plant life beyond Charger/Challenger."
dwaddell@postmedia.com
twitter.com/winstarwaddell